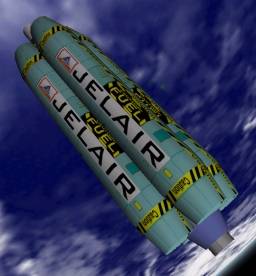 Modoolar fuel-module#1
(JELAIR Photo)
Visual design:
Original 3D-model: Jon Marcure.
Additional design: Jacob Larsen (2003).
JELAIR
Development status: in service

Date/Time-format: (YYMMDD@HHMM)

Latest calibration: 040125 @ 14:45 CET

First commissioned: 030220 @ 07:23 CET

JELAIR

Description:

The fuel-module#1 is a 'fuel-module' that can store high fuel-loads for long-duration missions. The module has 4 large seperate fuel-storage-tanks, to minimize fuel-loss in the event of a leak.
The module supports continued module extension in 2 space-directions.

The picture shows the fuel-module#1 in earth orbit during testflight trials.

JELAIR

Spec-sheet:
Main safety certification: "Orbiter-060929"
Safety certification record: "Orbiter-021202/3" through "Orbiter-060929"
Compatible with: "ShuttleFleetV3.9.4" (scenario example)
Length: 16 meters.
Mass weight: 6,255 kg.
Rated thrust (prograde): 0 newton (0 AUN).
Rated thrust (retrograde): 0 newton (0 AUN).
Rated thrust (hover): 0 newton (0 AUN).
Rated thrust (attitude): 2000 newton.
Fuel specific impulse (Isp): 4,000 m/s.
Fuel load: 18,500 kg.
Nominal PAX capacity: ~ 4 (for an estimated maximum duration of 12 hours)

JELAIR

Pilots Operating Manual:
Major warnings:

None

Advisories:

Thrust-power is limited, so release or tug the module as close to its final location as safely possible and only use attitude thrust for final assembly-dock procedure.

Current list of 'proposed handling' for various scenarios:

T/O
As payload on launch vehicle

Landing
Not advised/no current proposed procedures

Docking
#1:Request docking clearance (not needed for module assembly dockings)
#2:Approach head-on and aim the HUD 'victor'-targetsights on center of target dockring by linear-thruster movement.
JELAIR
DOWNLOAD

JELAIR-Modoolar_systems-(v070804).rar
JELAIR